Chiltern Thrust Bore Add to HDD Fleet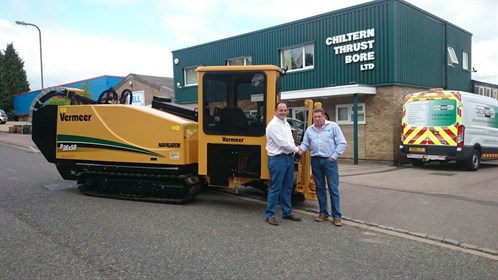 Chiltern Thrust Bore, based in Olney, have recently taken delivery of a new Vermeer D36x50 Horizontal Directional Drilling (HDD) rig.
The equipment, supplied by Vermeer UK, allows the company to expand the range of operations they offer to customers because of the additional capacity the D36x50 gives with torque and power, while still retaining the small footprint required to allow working in confined areas.
Andy Howe (Managing Director) said:
"We were looking to get another directional drill for a while because of the projects we are picking up. When we looked at the options our drillers preferred the Vermeer as it's easy to use and well built. The support Vermeer UK have given us recently has really given us confidence that the response is there if we need it, which was also a major factor."
Both companies are UKSTT members and Matthew Izzard (Trenchless Technology Manager for Vermeer UK) said:
"It's always good to work with companies you have something in common with. Increasingly HDD companies are not only looking at the quality of the product they are getting but also the back up and support that goes with that. It's increasingly about the partnership between companies – us understanding what is important to them and for the customer to know what is available. It's about jointly finding a solution to the challenges they get presented with."
After trainging, the equipment has immediately been put to work on a night project and has a heavy schedule of work coming up in the next few months.
Follow @ChilternTBore on Twitter for more updates.