Site Safety 101 - Taking A Closer Look at Personal Protective Equipment (PPE)
Safety is of paramount importance for any business when employees are working on a site that involves heavy machinery.
Whether you're on a construction site or a trenchless dig site like ours, safety will be at the forefront of any work undertaken.
Prior to any work, employees go through site safety procedures to ensure any risk to safety is kept at the absolute minimum.
So without waffling on too much, let's get into the nitty-gritty of what you should be aware of when working on-site.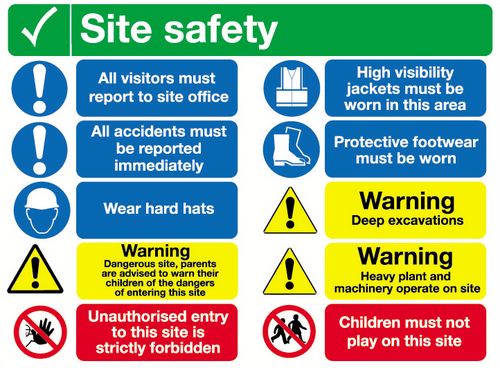 Personal Protective Equipment (PPE)
PPE refers to the protective garments and equipment that we wear in order to minimise the risk of any injury. PPE does not eliminate hazards totally as equipment can fail, so regular checking of PPE's condition is vital.
Items such as helmets, high-visibility jackets, gloves and safety footwear all fall under the PPE category and are all of high importance on site.
Hard Hats



Hard hats can literally be the difference between life and death in some situations which makes it a piece of equipment that is of huge importance. The hard hat is typically seen on industrial and construction sites.
Hard hats are primarily used to protect the head from falling objects, impact with other hard objects, debris from the site, weather and electric shocks.
The inner suspension serves as a shock absorber in the event of impact when a hard object strikes the helmet. This can either be from a falling or fixed object.
Hard hats come in a variety of classifications;
Class E - provides excellent protection against electrical mishaps such as high-voltage shocks and burns (up to 20,000 volts).

Class G - provides good impact protection and limited voltage protection (up to 2,200 volts).

Class C - Very lightweight protection. Mainly protects user from bumps. Does not protect against falling objects or electrical shocks.
Not only are hard hats categorised by voltage protection, they are also categorised by impact. Type I protects the user from vertical impact and penetration. Type II meets both vertical and lateral impact and penetration requirements.
While companies will choose the type of hard hat you will require on site, it's up to you to make sure your hard hard keeps up to a quality standard. A hard hat with a crack in the top is essentially useless and dangerous.
If you notice the condition of your hard hat wearing thin, notify the correct person and have new one issued to you.
High Visibility Clothing



Commonly seen in a fluorescent green or yellow colour, high visibility (HV) clothing is used to make you stand out from any background.
While working with motor vehicles and heavy equipment, wearing HV clothing is very important  to keeping you and your co-workers safe.
HV clothing reduces the risk of collisions hugely by making you more aware of where people are on the site (especially in badly lit areas).
The EN 471 European Standard for HV:
Class 1 - This is the lowest visibility level. In short, this requires HV trousers with two 5 cm reflective bands around each leg

Class 2 - This is classed as the intermediary visibility level. This requires two 5 cm reflective bands around the body, or one 5 cm band around the body and braces to both shoulders

Class 3 - This will give you the highest class of visibility. An example of this usually involves a HV jacket with long sleeves and HV trousers.
Foot Protection


Wearing the correct foot protection can prevent a number of dangerous situations such as rolling or falling objects, electrical hazards and objects that could pierce the sole or top of the foot.
Steel-toed boots are hugely popular as they have reinforcement in the toe area and a sole plate to protect against any punctures from below, such as stepping on a sharp object.
While these boots are traditionally made of steel, they can also be made from a hard plastic called thermoplastic polyurethane (TPU) or even aluminum.
The International Organization for Standardization is responsible for the safety standards of European footwear. The current standard is ISO 20345:2004.
Earmuffs / Ear Defenders



Working on site for hours at a time can have a huge strain on your ears. Earmuffs are used to help combat the noise from loud vehicles and power tools.
While thermal earmuffs can be worn in cold environments to keep a person's ears warm, acoustic earmuffs or more commonly known as ear defenders are used to deaden the sound of loud noises.
It is said that hearing protection is necessary for people who are exposed to 85 decibels or more.
Eye Protection


The eyes are an extremely sensitive part of the body, making eye protection equipment essential. From light, wind blast, particles, heat and debris, the eyes have a lot to contend with.
Eye protection is used for various occupations, and especially on sites where construction and drilling is involved.
Maintenance


Maintenance of yours and your colleagues PPE is extremely important. If the condition deteriorates or has defects, the equipment could be rendered useless, exposing you to the dangers it was made to protect.
All equipment must be stored in a secure, clean and dry location to minimise the general wear and tear of PPE

Replacement equipment must be on hand at all times. When an item breaks, it should be replaced immediately and on site replacements help speed up this process

Correct use. All employees should be shown how to correctly use PPE. This will minimise the risk of injuries on site


WE'RE NOW ON TWITTER! FOLLOW US FOR MORE POSTS LIKE THESE, AND OTHER INFORMATION ABOUT OUR SERVICES.